The OECD area unemployment rate was steady at 8.2% in July 2011, unchanged for the fifth consecutive month. The Euro area unemployment rate was also unchanged at 10.0% for the second consecutive month and has hovered around this level since December 2010.
Selected Unemployment Rates, s.a.
June 2011 - July 2011 (1)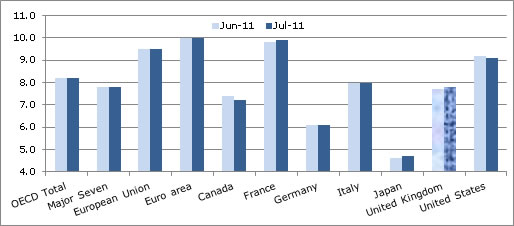 (1) United Kingdom: April 2011 - May 2011.
Between June and July unemployment rates for OECD countries displayed very little movement. The single highest rise was for Luxembourg (up 0.3 percentage points to 4.6%) while the greatest fall was in Mexico (down 0.5 percentage points at 5.3%). New August 2011 data for the United States (unchanged at 9.1%) and Canada (up by 0.1 percentage point to 7.3%) confirm this current picture of broad stability in unemployment rates.
Countries where high unemployment rates continue to persist include Ireland (14.5%), Portugal (12.3%), the Slovak Republic (13.4%) and Spain (21.2%).
Around 44.5 million people were unemployed across the OECD area in July 2011, down 2.0 million from July 2010 but still 11.4 million higher than in July 2008.