Mobile applications worldwide provide several different ways for developers to earn money from consumers as well as advertisers, and revenue from in-app purchases is expected to surpass revenue from pay-per-downloads in 2012.
The "Mobile Application Business Model" study released in February by market intelligence company ABI Research found that overall revenues from mobile applications, including in-app purchases, pay-per-downloads, in-app advertising and subscriptions will reach $46 billion by 2016, more than four times greater than the $8.5 billion earned in 2011.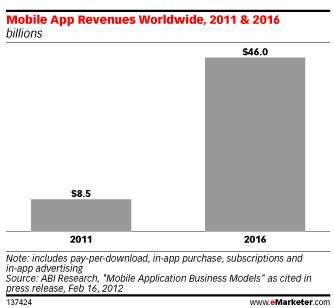 ABI also reported that 2012 will be the year when revenues from in-app purchases will surpass those from pay-per-downloads, as in-app purchases become more widely available in applications other than mobile games.
In January, IHS Screen Digest, a media-focused research and consulting company, released the report "Mobile Media Intelligence Service," predicting that in-app purchases will eventually bring in the majority of revenue from smartphone apps. IHS Screen Digest reported that in-app purchases worldwide earned $970 million in 2011, or 39% of total smartphone application revenues. This is expected to rise to $5.6 billion, or 64% of smartphone app revenues by 2015.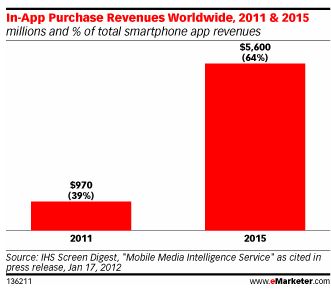 The forecasts from IHS Screen Digest are smaller than those from ABI Research, as ABI also counted subscriptions and in-app ads in its forecasts; IHS Screen Digest reported just in-app purchases and pay-per-downloads.
In-app purchases are an interesting aspect of mobile revenue, as a majority of such purchases are made by high-level or power users of applications, particularly games. In January, mobile app analytics company Localytics found that 44% of mobile application users who made an in-app purchase did so after their 10th session in the app.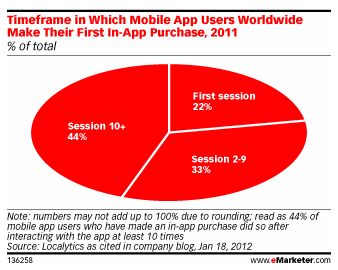 To continue to capitalize on in-app purchases, mobile app developers—and the marketers they work with—must get non-power users interested in making purchases, and include in-app purchase options in applications besides games.